Home / Packing Services / Packing Materials
If you pack your household goods yourself, there are a few things you should know.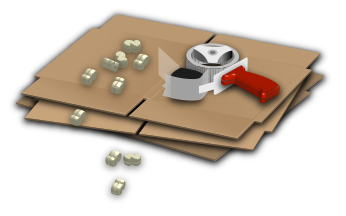 It is important to select the right packing materials. For example, it is wise to purchase boxes made for moving rather than boxes you get from your local grocery or liquor store. To be sure you buy proper moving boxes, locate the crush-proof tested seal at the bottom of the box.
Boxes
Moving boxes make a big difference. Not all boxes are of the same quality, and the box's quality determines its durability to survive a long-distance move. The type of box you use affects the safety and condition of your possessions during the move. In addition to the quality of the boxes, size also matters. Moving boxes have standard sizes, and it is easier to plan, load, and stack boxes onto the truck to ensure perfect loading and safety while in transit.
Book box / Small box (1.5 cu ft) – Book and small boxes are perfect for books, CDs, DVDs, office supplies, and typing paper.
Medium box (3.0 cu ft) – Ideal for non-fragile and somewhat heavy items like toys, pots, linens, folded clothes, games, shoes, handbags, etc.
Large box (3.0 cu ft – 4.5 cu ft) – Large boxes are best for articles that are light and bulky, like pillows, towels, comforters, and lampshades.
China/Dish box (6.1 cu ft) – Heavy-duty boxes with doubled corrugated walls are designed especially for fragile items such as dishes, glasses, vases, plates, crystal, etc.
Mirror/Picture box (6.1 cu ft)- These narrow boxes accommodate different sized mirrors/pictures, wall arts, and glass tabletops.
Lamp box (6.0 cu ft – 6.1 cu ft) – Designed only for large and floor lamps.
Wardrobe box with a metal bar (16.1 cu ft) – Ideal for hanging clothes and non-delicate items (i.e., cushions, linens, etc.)
Packing Tape
For securing all boxes, the most common and easy to use is a plastic tape called PVC.
Whitepaper
Use for wrapping fine china and dishes. NEVER USE THE NEWSPAPER! Newspaper leaves ink on your dishes, and it's impossible to remove.
Bubble Wrap
Perfect for fine china, dishes, collectibles, glassware, and other fragile items (i.e., – TVs, mirrors, pictures, glass top tables, marble, etc.)
Magic Markers
Use markers to label each box's contents and in which room they belong. Labels help the movers place boxes in the correct rooms at your new home.
Shrink Wrap
For better protection, use shrink wrap after all the bubble wrap & moving pads to better secure your household items. We also recommend shrink wrap for light-colored upholstered items before applying the moving pads. Please ask one of our Certified Moving Consultants for more information.
Mattress Covers
Keep your mattresses and box springs clean during moving or storing. The covers help protect against oil, dust, and water damage.
Quilted Moving Pads
To protect your furniture, the movers wrap non-fragile items with 72″x82″ quilted pads.