Home / Packing Services / Extraordinary Items

The definition of extraordinary
In the dictionary Extraordinary is defined as: "beyond what is ordinary or usual; highly unusual or remarkable".
Yes, we are well aware that all of us have an item or two that we consider to be of extraordinary value. We are not talking about sentimental items, but we are referring to items that as a professional mover require more preparation and attention.
We consider Extraordinary Items to be: pool tables, pianos, plasma TV's, etc.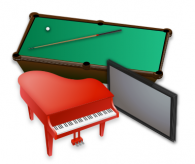 For example, asides from a home or car, most people consider their pianos to be the third most expensive item they have purchased in a lifetime. Therefore, if you include such items in your item list for your upcoming move, we will need to be well prepared. We take it very seriously and want to perform the move as smooth as possible. When dealing with items such as pianos or pool tables, most likely a third party will be needed for crating and/or disassembling and reassembling. We are professional movers; however, disassembling or reassembling such items can be a complicated and delicate task. Your Certified Moving Consultant will be happy to assist you in finding a third party.
Nationwide Van Lines will transport your shipment including those extraordinary item(s) the safest way possible. We will box crate your Extraordinary Items, use piano boards, straps and every tool necessary to handle such items.
For further information and questions, please feel free to
contact
your Certified Moving Consultant.