Home / Moving Guide / Moving Checklist
OK, so you have a new job and a new home. Now what?
After choosing the right company to perform the move for you, everything else is up to you until the move-out day. After many years in this industry, we know that staying organized during a move can be challenging at times. We have put together a checklist to make it easier for you. We can't promise it will take all the stress away, but it will assist you in getting organized and staying on top of everything, which are the keys to a successful move.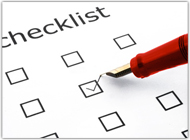 Time Prior to Your Move (Please Select):
5 Weeks Prior to the Move
Book a mover
- get estimates from at least 3 moving companies. Be sure to check that you are giving your business to a reputable company. Check them out on the Better Business Bureau (
http://www.bbb.org
) and the American Moving & Storage Association website (
http://www.moving.org
).
If this relocation is work-related make sure that payment arrangements are taken care of by the billing department or HR department in your company.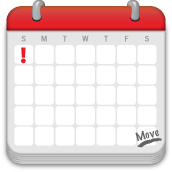 Have a copy of your new resident layout. This will help you decide what to move and what to leave behind! (Ask your Certified Moving Consultant for detailed pricing regarding certain items).
Create a move file for all moving receipts.
These expenses may be tax-deductible (
http://www.irs.gov
).
Take out items from your storage facility, attic, and basement.
If you have a car that needs to be shipped
this is the time to get quotes and finalize the details (
http://www.infomoving.com
).
4 Weeks Prior to the Move
This is the time to decide
whether you will be handling the packing on your own or if you would like the moving company to provide you with packing service. (For more details, please ask one of our Moving Experts about our
Platinum Packing Service
).
If you are handling your own packing
start gathering boxes, tape, bubble wrap, etc. (Please check our
Packing Tips
article for more details).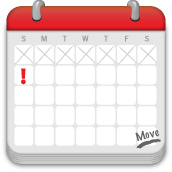 Start arranging your travel plans if necessary: hotels, rental cars, flights, etc.
Return things that you had borrowed including, books from the library, dry cleaning, etc. Remember to also retrieve any items you have loaned out.
Get rid of items that are no longer needed - have a garage sale! You may also use an online auction service or donate to your favorite charity. This action will reduce the amount of packing needed and also will help you lower moving costs.
3 Weeks Prior to the Move
Make sure you transfer all paper work needed such as doctor and dentist records, school records, auto/home insurance, bank account, etc. to your new location.
Get to know your new neighborhood! A short search online will provide you with the information you will need regarding local community guides, sports activities, schools, etc.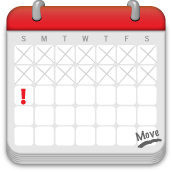 Make a list of valuable items that you would like to carry with you such as important documents (wills, stock certificates), jewelry, medicine, items with sentimental value such as photo albums, etc. Be sure to pack these items into a box and place it in a safe place and mark it as "NOT TO BE MOVED". This will eliminate any chance that it will be accidently loaded on the truck.
Begin packing items that are not used often or that will not be used in this upcoming month: off season clothing, books, CDs, etc.
Prepare a list of relatives, friends, businesses and others who should know about your move:
Cables
Internet
Telephone
Sewer district
Trash service
Personal or professional services:
Doctor
Dentist
Lawyer
Insurance agency
Dry cleaner
Pharmacy
Bank
Credit card companies
Lawn service
Gym or health club
2 Weeks Prior to the Move
Start using things that cannot be moved such as frozen food, cleaning products, etc.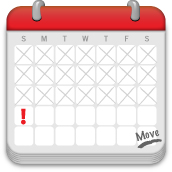 Be sure to arrange for utilities (gas, electricity, water, etc.) to be disconnected in your current residence and to connect them in your new residence.
If this is an out of state move, make the proper arrangements for your plants. You can move them yourself, sell them in your garage sale or give them away. According to the D.O.T (Department of Transportation) they will not be able to be moved by your mover.
Check with your Home Owners Insurance provider to find out how your possessions are covered during transit. If you will be moving items of extraordinary value, antiques, artwork, jewelry, collectibles, musical instruments and other appraised valuables; take photos of these items.
Check with your City Hall to see if you are in need of any moving permits for pick-up or delivery.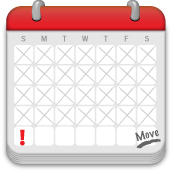 If you are moving out of or into a building, be sure to reserve the elevator according to the time frame provided to you by your mover.
If this is an out of state move, make the proper arrangements for your plants. You can move them yourself, sell them in your garage sale or give them away. According to the D.O.T (Department of Transportation) they will not be able to be moved by your mover.
Take down remaining curtains, blinds and shelves.
Have your major appliances disconnected, cleaned and ready for the mover.
Contact your Certified Moving Consultant to finalize any last minute changes to your item list and boxes count.
Be sure to defrost, empty, and clean your freezers and/or refrigerators at least 24 hours prior to your pick-up date.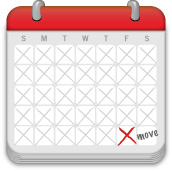 Make sure you have a payment ready for the movers- check with your Certified Moving Consultant for payment methods allowed.
Leave a telephone number and forwarding address with a neighbor in case of emergency.
Make sure that the movers have the right address, phone numbers and directions to your house and be present to answer questions.
Make sure all boxes are properly marked by rooms. This will make it easier on you and the mover upon delivery to arrange things in your new home.
Check one last time that all dressers, chests, etc. are empty and ready to be wrapped and loaded.